General Information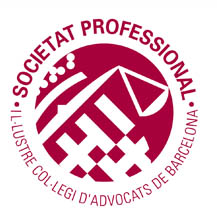 In compliance with Law 34/2002 of July 11, for all services of partnership, of information and electronic commerce, we hereby inform our clients that the domain name, www.aobabogados.com, is legally registered to AOB ABOGADOS LEGAL SERVICES, S.L.P.,with CIF B66173055, professional society nº 951 in the Il.lustre Col.legi D'Advocats of Barcelona and registered in the Mercantile Registry of Barcelona , Volume 44069 Folio 21 Sheet B 446 316.
AOB ABOGADOS LEGAL SERVICES SLP is the responsibility of this website and the provider of face legal services throughout Catalonia and is the provider of all online legal services noted in paragraph <a href='http://www.aobabogados.com/services/online-legal-consultations'>http://www.aobabogados.com/services/online-legal-consultations</a> and respect those provided via telephone line of charging additional 807 505 728 (telephone legal advice service).
Our headquarters is located in Barcelona on Calle Mallorca 272 276, 6th floor unit 4, please contact us at the following numbers and address:
Phone
0034 93.331.92.94
Fax
0034 93.122.08.91
Email
lawyers@aobabogados.com
In Madrid, service is provided by our partner Ms. SUSANA MARTIN SOLER, of law degree in Spain, licensed and registered attorney ICAM 56053 whose office can be located in Madrid, Calle de Velázquez 27, 1st floor - EXT. Left.
All of the distinguished attorneys/lawyers at AOB Abogados and our partners meet the standards required for practice as well as ethical codes and ethical behavior required by the General Council of Spanish Attorneys of Law and the Board of Bar Associations of Catalonia. You can view that legislation or www.abogacia.es or www.cicac.es.
Use of Cookies with aobabogados.com
Our web pages use Google Analytics, a web traffic analysis service provided by Google, Inc., a company with headquarters at 1600 Amphitheatre Parkway, Mountain View (California), CA 94043, USA ('Google'). Google Analytics uses 'cookies', which are text files placed on your computer, to help the website analyze how users use the site. Google Analytics is free web analysis tool from Google that helps website owners understand how visitors interact with their website. The information generated by the cookie about your use of the website (including your IP address) will be transmitted to and stored by Google on servers in the United States. Google will use this information on our behalf in order to track your use of the website, compiling reports on website activity and provide information of said activity and any other related data on website activity and internet usage. Google may also transfer this information to third parties where required to do so by law, or where such third parties process the information on Google's behalf. Google will not associate your IP address with any other data held by Google. You may refuse usage of the data or information by rejecting the use of cookies by selecting the appropriate settings on your browser. By browsing this web VD, you consent to the processing of data about you by Google in the manner and for the purposes of the above stated. (here).
AOB Lawyers informs our users that (i) the collection of information on the use of this website by our users through Google Analytics is only done so by Google on their own behalf, AOB Lawyers does not have access at any time to such information (if not only for the purposes of adding on of information that is subsequently facilitated by Google and is not associated with any IP address), (ii) it is Google (not AOB Lawyers) who determine the purpose of processing and use of information collected by Google Analytics at all times, as well as the operation and duration of cookies, (iii) in accordance with the information provided by Google, the user can avoid picking up that information by rejecting the use of cookies by configuring their browser. More information on how to proceed the refusal of installation of cookies by Google Analytics can be found at here.
'Online Services': Terms and Conditions
The hiring of one of the inserted services within the "Online Services" of the website for, www.aobabogados.com, implies full and unreserved acceptance of all and each of the following general terms and conditions in addition to those set out in the relevant page of each service provided.
The services offered by this site are offered by qualified lawyers and are subject to different rules and a professional code of ethics which can be viewed by clicking here.
Aim. The General Conditions are for the intended use of legal services provided on the website in exchange for the fees specified by AOB Attorneys, prepaid by Customer is fixed and set by the attorneys themselves (except for 'online rental contracts' and 'online divorces of mutual accord' which is divided into payment of fees by stages).
Legal requirements for hiring services. Pursuant to applicable law, to be the recipient of legal services provided by this office, you must have the legal capacity to hire said services established by the law of the country. In Spain that age is 18 years.
Description of the legal services provided over the Internet. The fees, requirements, features included and excluded, and the conditions through which legal services are delivered over the Internet, are as described in detail in the corresponding section insert 'Legal Services On-line'.
Legal Fees. For services provided are in the section deemed 'Legal Services Online' detailed on the website. Should a prior analysis of a case be required for AOB Lawyers, said information must be provided by the client whereby upon completion of said analysis an adjusted fee will be provided to the client via email. It is then up to the client to either accept or decline any further services from AOB Lawyers without any further cost. The stipulated fee is closed and includes all applicable taxes.
Method of Payment. Clients can pay the fees by credit card, personal check or bank transfer to the account specified by the lawyer assigned to that case.
Fraudulent use of credit cards, or denial of payment on transaction for any reason, entitles AOB lawyers to rescind the booked services without prejudice and absolves them of any further responsibility to civil and criminal liability that may be applicable.
Procurement Method. To hire a 'Legal Online Sevice', you must complete the mandatory fields of the form.
Cancellations by the Customer. After hiring and payment of the service the customer may cancel and discontinue the services of AOB lawyers within a period of 14 days, with or without cause, without any penalty as long as the legal service has not yet been provided by a member of AOB Lawyer's office.
To proceed with a waiver of services, the client must expressly notify AOB Lawyers by email or by other means whereby proof of such on record.
In this case, our firm will reimburse the amount the client has paid for contracted legal services by bank transfer within 14 business days.
Streaming queries via 'online legal consultations' and through 'Lawyers by Phone' (telephone counseling line 807 505 728). AOB Lawyers is not responsible for the error in the transmission of the consultation in case of interruption, cessation, or defects in quality of telephone lines or telecommunication networks, computer viruses, bugs or security of the recipient or any other cause beyond its control. In the case of not receiving confirmation from the client that they have received a response to their consultation or they do not inform AOB Lawyers within 48 hours of such non-receipt or errors, which they may do via email or telephone to lawyers@aobabogados.com 93.331.92.94 it is then understood that the client is satisfied with the provision of the services performed.